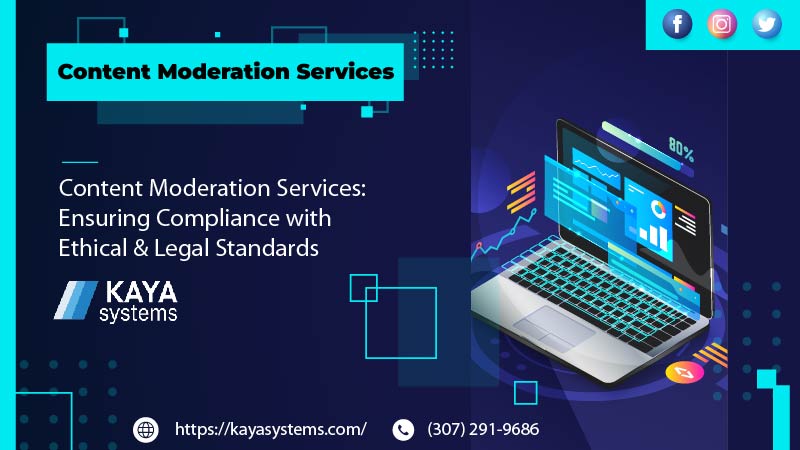 The digital world is evolving day by day, and content is the most powerful tool driving these evolutions. People rely more on the opinions and reviews of other people online instead of the ones provided by the brands. Thus, the quality and effectiveness of user-generated content on your website can make or break your brand's reputation. This can also help you to build strong relationships with your customers, meet social media rules and regulations, and get insights into social influences on brand perception. This is where content moderation services come in. Content moderation involves the process of monitoring, filtering, and evaluating user-generated content to ensure that it is appropriate and aligns with particular standards of acceptability. 
Keep reading this blog to learn about the role of content moderation and why you need to outsource it. 
Why are Content Moderation Services Essential for Your Business? 
Content moderation entails reviewing and monitoring various forms of content such as text content, images, videos, or other forms of material that are present on social media, websites, or other platforms where users interact with your brand. The following are the benefits of content moderation solutions:
Helps to protect your end-users and brand. 

Enhance the search engine rankings and traffic to your website.

Provide clear and concise information to your audience.

Gives you detailed insights into your users' interests.

Bring forth an entertaining and engaging experience with the customers.

Protect your brand from trolls, spam, hate speech, fake news, or any other form of inappropriate content.

Improves your sales campaign and makes it more user-oriented.

Create a safe and welcoming environment for users, while protecting the company from reputational damage and legal liability. 

Boost your brand's visibility and sales.

Build a strong reputation for the brand.
How does Content Moderation Work for Social Media?
Social media is generating tons of content every minute which requires tough monitoring and evaluation. The content moderation process includes the following steps:
Detection of Unusual Content – The content moderators detect inappropriate and harmful content such as offensive messages, fake comments, illegal statements, and dummy reviews by using automated tools including machine learning algorithms and user reports.
Review – After detection, moderators review the content to ensure it meets the legal standards and guidelines of the company.
Action Upon Violated Content – If the content is reported as false or spam then an action is taken against it such as removal of content, marking it as inappropriate, and warning the user.
Content moderation is crucial for social media management and to ensure liability, content moderators review the content of Facebook posts, Instagram images, YouTube videos, forum posts, blog comments, product reviews, etc.
Why Should You Outsource Your Content Moderation Needs?
Do you want expert content moderation that aligns well with the guidelines and standards of your company? Outsourcing can be the optimal solution for you. Moderation tasks can be daunting for in-house employees to handle and may necessitate efficient training and effective project management skills to monitor content across multiple platforms. There are several reasons why outsourcing content moderation service proves beneficial for your business:
__Cost Saving Approach 
The major advantage of outsourcing content moderation is that you don't have to spend heavy costs on recruitment and training an in-house moderation team. By working with an outsourcing company, you can get access to a team of experienced moderators who are experienced in managing various content types and can work on flexible schedules.
__Access to Expertise
If you outsource to professional content moderation partners, you can tap into the assistance of their extensive experience in managing a wide range of challenges and recognizing potential risks. Their knowledge and expertise can enable you to detect and address possible concerns before they escalate into major hassles. Moreover, you will have peace of mind, knowing that competent experts are overseeing your business, and will ensure that their work is executed flawlessly. All you have to do is to provide them with your community standards and guidelines, and they will handle the rest.
__Provides Scalability
Scalability is one of the biggest challenges that businesses face in the content moderation process. If you outsource your needs to professionals, they will easily adjust your moderation requirements based on the amount of content you receive. This is particularly advantageous for businesses that have fluctuations in their content due to various factors, thus they can handle all of your content moderation demands and challenges. 
__Get Rid of Training & Buying Necessary Tools
Outsourcing companies can help you to reduce the extra logistics and overhead costs such as software costs, the hassles of setting up a new place, and the expenditures of hiring and training a new team. They already have all the necessary tools, databases, and manpower for content moderation service therefore, you will get rid of this extra spending.
__ Improved Efficiency & User Experience
Professional content moderators use machine learning algorithms to abruptly detect and remove inappropriate content, providing you with more significant user exposure, and SEO advantages. They understand the significance of their work and the impact of a single negative comment on your business. Moderation creates a safe and deferential environment, allowing your customers to share their honest opinions and thoughts on your site. Furthermore, content moderation also corroborates that the content published on your website is pertinent and of outstanding quality. As a result, users are more likely to interact with content, which can boost traffic and engagement. 
Final Thoughts
Your brand needs content moderation solutions to improve rankings, user engagement, and sales campaigns, and to protect it from spam and reputational damage. Thus, to make sure your content is safe and aligned with the brand's values, outsourcing your content moderation services is the best bet which provides the benefits of cost-effectiveness, access to expertise, scalability, and improved efficiency and user experience.