Customer Relationship Management (CRM) is not just a tool; it's a strategy that is reshaping the way companies interact with their clients. As businesses seek to stay competitive and consumer expectations continue to evolve, the role of CRM systems has never been more crucial. At the forefront of this evolution is this CRM, a game-changing software solution that offers a more streamlined, user-friendly, and effective approach to customer management. In this article, we will delve into the intricacies of this CRM, the ethos that drives its constant innovation, and the HubSpot career opportunities that contribute to its ongoing success.
But before we go deep into the CRM, let's set the stage by addressing a fundamental question: What is HubSpot?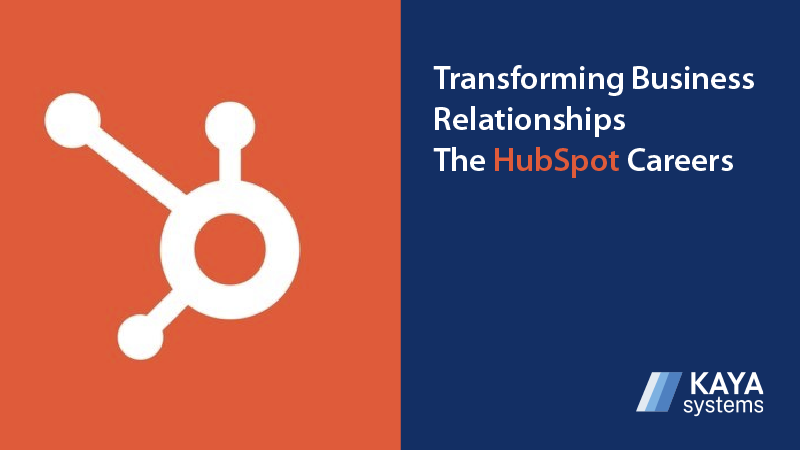 What is HubSpot?
It is a leading growth platform aiming to help businesses attract, engage, and delight customers. Originating as an inbound marketing tool, it has since diversified its product line to include robust CRM, sales, and customer service functionalities. The platform empowers businesses of all sizes to build meaningful relationships with their customers, foster client engagement, and drive growth, all within a singular ecosystem. 
A Look into HubSpot CRM
HubSpot CRM is a cloud-based solution designed for businesses looking to simplify their customer relationship management processes. Unlike other CRMs that come with a steep learning curve, this CRM focuses on ease of use without compromising on features. Whether you are a small business owner managing a handful of clients or a large enterprise handling thousands of relationships, the CRM scales according to your needs. 
Key Features of HubSpot
– Contact Management: An intuitive interface allows users to keep detailed records of customer interactions, emails, notes, and other relevant data.
– Pipeline Management: Customize your sales pipeline and track the status of deals in real time.
– Automated Data Entry: Spend less time on administrative tasks thanks to the CRM's ability to automatically pull in data from various touchpoints.
– Analytics and Reporting: Understand your performance metrics, from sales activities to customer engagements, all through comprehensive dashboards.
– Integration: This CRM seamlessly integrates with other tools and third-party applications, making it easier for businesses to consolidate their tools into a unified platform.
Why Businesses Choose HubSpot CRM
– User-Friendly: One of HubSpot CRM's strongest selling points is its user interface, which is designed to be intuitive and accessible for people who might not have a technical background.
– Scalability: It grows with your business, providing value whether you're a startup or a multinational corporation.
– Cost-Effective: With a free trial that offers a surprising amount of utility, small businesses can make use of robust CRM functionalities without breaking the bank.
The People Behind HubSpot CRM:
It isn't just a product; it's a philosophy, a culture, and most importantly, a team of talented individuals dedicated to helping businesses grow. It offers avenues for skill development, professional growth, and meaningful work in various departments that contribute to the development and success of this CRM.
Roles at HubSpot Critical to CRM Success
– Product Managers: They are the visionaries who map out the direction of HubSpot CRM, ensuring it aligns with customer needs and market trends.
– Software Engineers: The architects behind the scenes, their coding and development skills transform product visions into tangible features.
– Data Scientists: Crucial for analytics and reporting features, data scientists work on algorithms and data models that make this CRM a powerful tool for businesses.
– Customer Success Managers: Once a business becomes a client, these professionals ensure they make the most out of HubSpot CRM, thereby boosting customer retention rates.
– Sales and Marketing Teams: They are the voices that communicate the value of this CRM to prospective clients, employing the very inbound marketing strategies that HubSpot itself champions.
Skills Needed in HubSpot 
If you are looking at HubSpot, specifically those contributing to it, certain skills can make you an excellent fit:
– Technical Proficiency: Understanding programming languages, data analytics, or UI/UX design can be immensely beneficial.
– Customer-Centric Thinking: Given HubSpot's customer-focused philosophy, being adept at understanding and solving for the customer is vital.
– Adaptability: The tech world evolves rapidly, and so does HubSpot CRM. Being open to change and quick to learn are traits highly valued in HubSpot.
Career Development at HubSpot
Employees are encouraged to grow both vertically within their department and horizontally by acquiring new skills and potentially transitioning into different roles. With ample opportunities for upskilling, attending conferences, and mentorship programs, HubSpot makes career growth a core part of its organizational culture.
Conclusion
HubSpot CRM is not merely a product but a dynamic entity that is consistently refined, updated, and made increasingly powerful, all thanks to the talented individuals who work on it. It offers a glimpse into an organizational culture that values customer-centricity, adaptability, and constant learning. Whether you are a business looking for a CRM solution designed with your growth in mind or a professional seeking a fulfilling tech career, it has something valuable to offer.
So, whether you're a small business owner looking to streamline your customer relationship management, or a job seeker eyeing opportunities in a tech-savvy, customer-centric company, HubSpot is a name you can't afford to overlook. With a product designed to empower businesses and a work environment structured to nurture careers, HubSpot embodies the nexus of product excellence and professional growth.