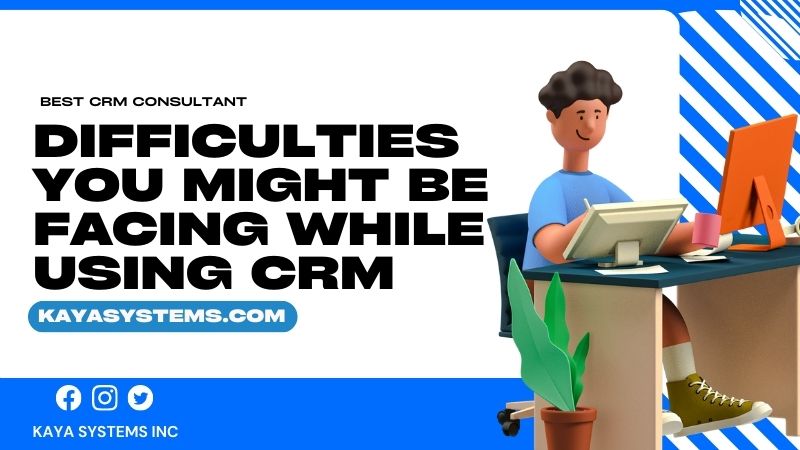 A CRM system can be an excellent source for you and your team in terms of managing relationships with customers and prospects. Companies use CRM for engaging, retaining, and acquiring their clients. It helps to automate all business processes and ensures smooth and efficient interactions. The right CRM consulting services will help you to improve analytical data, sales, customer service, and profitability. But, sometimes CRM implementation challenges restrict the system to achieve its objectives.
So, are you frustrated with the challenges of your CRM and want to solve them for productivity? Keep reading this blog. It will help you to come up with the best possible solutions to take your business to the next level by implementing a good CRM platform.
5 Common CRM Challenges and Their Solutions
Today CRM is the most useful platform globally and by 2025 its implementation growth is predicted to amass over $80 billion in revenues. But, researchers of leading industries suggest that 70% of CRM implementations may be unable to meet expectations. That's because there are plenty of issues that occur during CRM executions, but you can tackle them before they become major hassles.
#1 Lack of Functionalities that Your Business Needs
The choice of the right partner is necessary for your success, and so is the case of software. It can be easier to buy the cheapest software license but customizing it to meet your requirement is far more costly than getting the appropriate system in the first place. Some people make a mistake by spending a small fortune on a costly system with numerous useless features.
Solution:
Are you wondering how to choose the right CRM? When you are choosing a CRM, make sure it comes with all the functionalities that are essential for your business. To determine which objectives are crucial, you can consider the following features:
Email Tracking
Easier Collaboration between teams
Social Media Management
Client Monitoring
#2 Threats of Data Security
Security threat is the biggest challenge of your CRM tool. From a common user to a business owner, everyone wants to keep their information safe and secure. But hackers can steal your valuable data about clients, vendors, and employees. So, if there is a threat of security violation of your chosen CRM software, it can be devastating for you and your brand's reputation.
Solution:
You need to select a unified and top CRM which allows you to migrate your data smoothly and safely to the cloud.
You should trust a system that has already positive reviews and ratings in terms of data security and protection.
Your software must have an SSL CRM certification.
Make sure your CRM administrations are up-to-date according to the best security practices.
#3 Too Complex for Employees to Use
Even the most user-friendly platforms come with the need for learning and expertise. A CRM is a complicated system, so your team may lack knowledge about how to use its features. And offering extensive training to your employees may cause delays in other business operations.
Solution:
When seeking CRM tools, you must go for the one that offers thorough training, onboarding, and self-service sources.
You can find CRM solutions on websites that highlight successful CRM businesses on their sites.
There are three types of CRM and you should prioritize your requirements first and then choose accordingly.
#4 Difficulties in Managing Integrations
Companies can access enriched and essential information on various business areas by integrating data. The capability for executing data-driven decisions depends on data integrations. But, some people think that CRM implementations will not provide the necessary
Integrated functionalities that may create gaps in collaborations with lead generation, internal communication, ticketing, and marketing.
Solution:
Advanced CRM systems contain integrating functionalities that give you ever-growing productivity opportunities. Before purchasing a CRM, make a list of integrations you might need. This depends on the design of your sales mechanism. For example, if you want smooth integrations between your marketing and sales, you may prioritize Zapier CRM, WordPress, MailChimp, Salesforce, etc.
#5 Lack of Support
Suppose you have purchased a system and found it malfunctioning, then what you will do? For sure, you will approach the support team to fix it. But if your staff is untrained, and you have to wait for an eternity to get a reply from them, this can be very frustrating. This will result in a loss of business productivity and customers. Thus, lack of support is a major challenge in using CRM platforms. Your CRM support team must always be available to help you.
Solution:
You need to contact end-users and executives before implementing the system.
You can use the free version of CRM (if available, as per your objectives) to check if their support partners are responsive or not.
Choose a CRM database that aligns well with your business goals and remove the CRM project coordinator's plate of work.
Lack of functionalities, data security, system complexity, troubles with integrations, and lack of support are the five major challenges of using CRM. These issues can cost you a lot of money and time, and you might lose the trust of your customers. However, with little effort or planning you can dust them off and can enhance segmentation, customer retention, trustworthy reporting, speedy communications, data privacy, and sales.