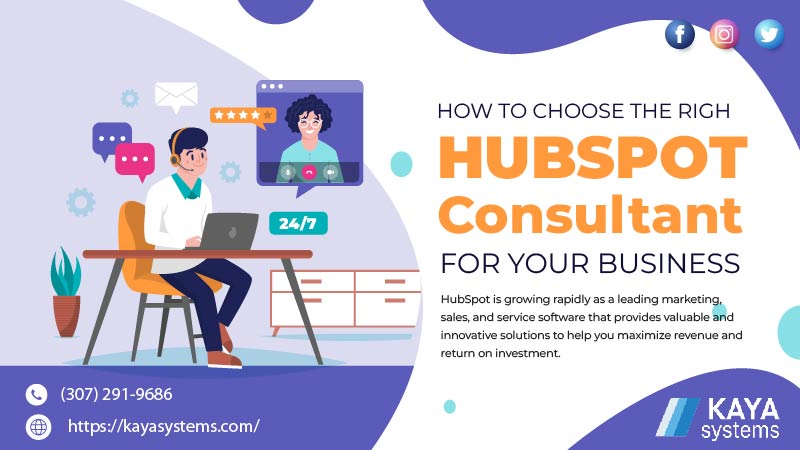 HubSpot is growing rapidly as a leading marketing, sales, and service software that provides valuable and innovative solutions to help you maximize revenue and return on investment. Nowadays, every business needs HubS pot to manage its operations and hustles for scalability and growth. HubSpot acts as a building block for social media marketing, content creation, and website analytics. Therefore, it is crucial to get the assistance of an expert HubSpot consultant for utilizing all the HubSpot tools to their full potential to achieve their inbound marketing, sales, and service goals.
There are over 2500 HubSpot partners available in the market, how do you find the best one for your company? Keep reading the blog to know the things to consider when you're talking to different consulting companies and agencies.
What are the essential factors to consider when evaluating a HubSpot consultant?
For successful HubSpot inbound marketing, you must get the services of professionals, who possess extensive knowledge, business intelligence, and expertise to apply the inbound methodology to complement your current marketing strategy and to accomplish your business goals and objectives. Let's now discuss what you should keep in mind when looking for HubSpot experts to help accelerate the growth of your business.
__Enlist Your Needs and Goals
Before starting anything, we define its aims and objectives because they motivate us to get insights into what steps to take. Start your research by keeping in mind what you want your HubSpot partners to do for you. Enlist the following things in your brain:
What are your business targets?

What challenges you might face? 

Which communication means would you prefer to talk to your HubSpot partners? 

Will it be okay to work with an online team or freelancers?

What's your budget to pay them?

What do you actually want them to do for your company?
In the beginning, the clarity of these factors will make your search process easier and faster.
__HubSpot Certifications and Experience
Before choosing the consultants you must assess their HubSpot agency partner certification, demonstrated abilities, and industry experience. It's essential to evaluate whether they possess the expertise to provide exceptional services and help you achieve your business objectives. HubSpot provides numerous certifications like HubSpot Sales Software Certification and HubSpot Marketing Software Certification which confirm that the consultant has a deep Knowledge of the software and has successfully completed a rigorous exam. Experience is crucial in determining whether they match your business niche so, it is necessary to choose a person who has industry-specific expertise and previously worked with similar businesses like yours. This will help them to grasp your business needs and deliver the best possible solutions.
__Analyzations of their Social Profiles & Success Record
Before purchasing anything, we always dig into social media reviews and star ratings and if we find them positive and engaging then we go for that thing. Similarly, all you have to do is to go to Google or Advisor and track reviews and records of a HubSpot agency in the partner directory and look for their record of success. Although the consultants may have different awards and certifications, these are insignificant if they are not willing to share work samples and proven success records. When engaging with various partners and agencies it's recommended to inquire if they can provide recent client references and an understanding of previous work. This will enable you to weigh up their work quality and decide if they are a suitable fit for your business.
__Effective Collaboration and Communication Skills
Effective communication skills are essential to collaborating with HubSpot consultants. You must analyze if they are able to share complex ideas in simple terms and be amenable to your concerns and questions. They must be able to listen to your business requirements and propose different strategies and ideas to fit your needs. Some consultants have an extensive list of clients, which may result in receiving inadequate attention. Therefore, it's mandatory to discuss project deadlines and timelines before commencing any work to ensure that they can allocate adequate heed and time to your project.

__Cultural Compatibility
With all other important luxuries in your findings, you should consider the cultural compatibility of HubSpot partners. The agency may have excellent success records but what if they're unable to adjust to your working environment and difficult to work with? Some consulting service providers also have a cultural desk to showcase their agency's culture. So, choose the ones who should be a partner and an extension of your existing marketing team and not a dictator to your strategy and want to control everything.
To Sum It Up
Finding and evaluating a HubSpot consultant needs careful consideration of various factors. Firstly you should make a list of your business's needs and goals. You must inquire about the consultant's social media profiles, industry certification, relevant experience, communication skills, availability, and track success records before making a final decision. By keeping these things in mind, you can find the best HubSpot expert to assist you to achieve your marketing goals and grow your business.