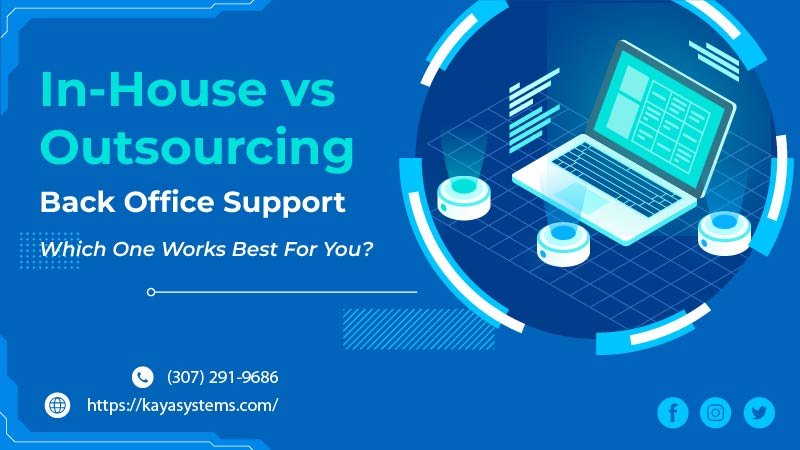 In today's digital age, back-office support is essential for businesses to operate effectively. It is an extensive branch of a company that performs operational and administrative tasks which are necessary for front-office management but are not directly related to customer-facing activities. These tasks include data entry, accounting, human resources, database administration, IT support, finance management, and other similar activities, critical to keeping a business afloat in the high competition. But deciding whether to manage these activities by the company itself or outsource them can be very daunting. 
In this blog, you will learn about in-house and outsourcing back office support services and how to decide which is the best fit for your business.
In-House Back office Support
In-house back office solutions involve managing back-office tasks internally, without any support from a third-party service provider. This includes functions like document management, accounting, technical support, customer service, etc. In-house support provides you with much control over these essential operations, allowing you to ensure accuracy and quality. 
In-house back-office also incorporates human resources operations such as training and payroll processing. Its primary purpose is to run efficient and smooth operations that are not directly linked to the company's core services with the assistance of the company's employees.
Outsourcing Back Office Functions
Outsourcing back-office services is a business practice in which a business engages with an external service provider to perform its back office operations. This helps them to concentrate on their core competencies and other important functions while increasing efficiency and minimizing costs. By outsourcing, companies can also leverage the knowledge and expertise of their professionals, who can often attain the same operations at a lower cost due to economies of scale.
How to Choose Between In-House and Outsourcing Back Office Support?
Are you confused about doing your back office management in-house or outsourcing these tasks to a third-party service provider? This choice ultimately depends upon the needs and goals of your business. The following are the essential factors to consider when making the decision:
Expertise is a critical factor when deciding between in-house or outsourcing your needs. A company's internal teams may have limited skills and insufficient knowledge of back office operations but outsourcing provides you with a broader range of specialized expertise in finance, accounting, IT, and other development fields. For instance, if you outsource your accounting tasks to a professional accounting firm, it will ensure that you have access to a qualified and experienced team who can assist you with competent financial support and advice.
Your predefined budget to handle back office functions is one of the primary considerations when choosing between in-house or outsourcing services. In-house operations need a higher initial investment in the following terms:
Hiring and training employees

Setting up an office space

Purchasing software and applications

Ongoing costs of maintenance, salaries, and benefits 
On the other hand, delegating your back office needs can help you with a more cost-effective solution. However, back-office support providers already have all the required infrastructure in place, so businesses don't need to make a huge investment upfront. Outsourcing also provides scalability options, allowing your business to adjust its functions without incurring additional expenses.
Data security is another major consideration. You need to share your confidential data such as account information when outsourcing your backoffice operations. It can be critical to ensure that they have the necessary security protocols to protect your data. One single mistake at their end could destroy your security protocols and harm your business. 
On the other hand, if you keep your back-office support activities in-house, it can help you with a higher level of control over data security because you have direct oversight over your employees and can implement your own security policies and protocols. Therefore, you must carefully consider your security protocols when deciding whether to outsource your back office needs or keep them in-house. Before partnering with a service provider you must research their security protocols, including recovery plans and data backup, to ensure that your information will be protected.
With in-house support, you have more control over all your functions as you can directly supervise your team and ongoing activities. However, if you hire an external team for your back office support, you may have less direct control over the work being done. Outsourcing offers flexibility to scale up with your business's changing needs, but in-house support can be less flexible, you may need to hire and train new staff to come up with solutions for the growing needs of your business. 
Final Thoughts
The choice between in-house and outsourced back office support services requires careful consideration of many important elements such as expertise, budget, flexibility, control, and security. But the accurate way out depends upon specific business needs, goals, and investment. After analyzing the above-mentioned factors you can find the right support solution that aligns well with your company and help you to drive success. With the right decision, you can ensure the security, smoothness, and effectiveness of your back office operations.