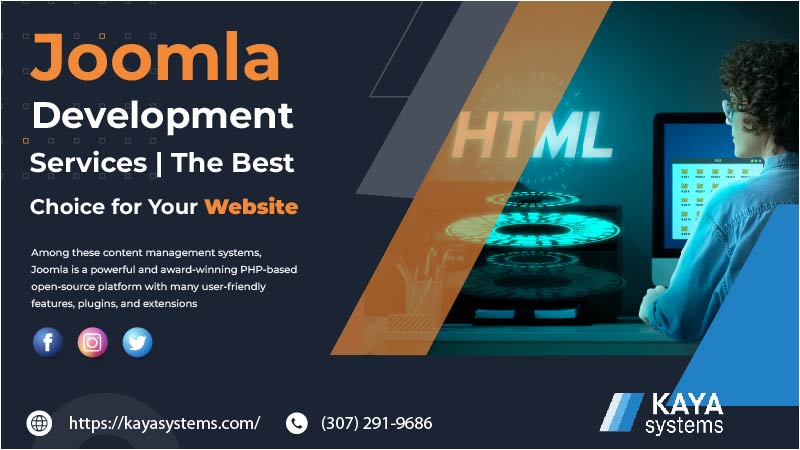 Until a decade ago, things were much easier for web developers and they used to dignify the web pages as paperless brochures that were the least interactive. But now the spectrum of website development has changed, and instead of hiring website developers people can tirelessly build their own websites using a CMS system. Among these content management systems, Joomla is a powerful and award-winning PHP-based open-source platform with many user-friendly features, plugins, and extensions. It provides you with the freedom to create vibrant websites irrespective of your business's scale.
So, are you still confused about whether Joomla will be a perfect fit for your website development needs or not? Keep reading this blog to know the reasons you will drive embedding Joomla development services.
Why Should You Choose Joomla Development Services for Your Website?
Are you a proud business website owner and want to take it to the next level? Knock on the doors of Joomla CMS that will delineate what you were exactly missing in this tough competition. In addition to its cost-effectiveness, it offers composer integration, a printable version of pages, RSS feeds, blogs, collapsible sidebars, and support for language internationalization.
Here are the reasons why Joomla development has greater advantages over other technologies:
1. Wider Range of Audience
It may be surprising to know that Joomla has a community of 3 million active users and the number is increasing day by day. According to expert predictions, it would outclass WordPress in terms of popularity and accountability. With Joomla services Loopholes, security concerns update software bugs, and every little thing is detected very quickly and updated on its forum. Furthermore, people can effectively design and create lucrative websites for their brands.
2. User-Friendly Interface
Joomla is also preeminent among people due to its user-friendly interface, through which even non-technical users can build their own websites. By selecting Joomla development services it will be much easier for you to create and manage your website's content without the knowledge and expertise of any coding languages. This means you won't have to hire any website developer to build and oversee the website for you.
3. Open Source Infrastructure
One of the major reasons that make Joomla so popular is its open-surface infrastructure. So, if you want to personalize your website or edit code, Joomla may be a good option for you. The combination of MySQL and PHP has given ease to developers across the globe to build extensions for Joomla. With Joomla web services, you can customize the appearance of your website and modify the source code to fit your specific visual style.
4. Comes With Numerous Extensions & Templates
Joomla offers plenty of opportunities with over 8,000 extensions. Whether you want to integrate social media channels on your website to gather feedback or need assistance with marketing, communication, social media management, languages, or editing, there are more than 30 different categories of extensions available. With this variety of extensions, you will never run out of options to make your website enthralling and user-friendly. Joomla website development also provides you with templates of all types and functionalities. It has a comprehensive set of capabilities, including integrated SEO tools, a robust content editor, and advanced user management.
5. Cost-Effective Approach
Joomla is an open-source CMS that is widely used for creating dynamic web applications and websites. The following are the reasons why it is regarded as a cost-effective approach among other technologies:
It is an open-source technology that is free for anyone to use.
Joomla offers several customization features, which means you can create unique and tailored solutions by avoiding the need to buy expensive off-the-shelf software.
It provides greater scalability and adapts to the evolving needs of a business, you don't have to invest in expensive replacements and software updates.
There are numerous Joomla web developers and users who offer assistance and create features and plugins for the platform. As a result, businesses can leverage this valuable support without spending on hiring a third-party service provider.
6. High in Security & Flexibility
With Joomla CMS, you wouldn't be restricted to a single service. It provides strong security features to protect your website against potential threats. There are a variety of extensions available that can strengthen your website's security measures, and the CMS is updated regularly to address any of these security vulnerabilities. If you don't install regular updates or use unauthorized third-party extensions then your website's security can be compromised over time.
7. Easier Content Management
Joomla offers a unique opportunity to manage users easily without having to switch tabs. Furthermore, it is very easy to build a website due to its user-friendly interface and powerful built-in tools. It allows developers to effortlessly create, edit, and manage content, with features such as customizable content fields and drag-and-drop functionality. So, if you're a website owner and looking to manage your website's content with ease, the Joomla content management system is an exceptional choice for your business.
Final Thoughts
Joomla is a powerful tool for building websites and applications and provides businesses with the opportunity to grow and expand. With over 3 million global users, Joomla offers an open surface infrastructure that comes with numerous extensions and templates. It is a cost-effective approach for even non-technical users, and you can manage your content without any hassles. Joomla website development is the best bet for your business in case you want to develop web applications, business websites for your products and services, or design extensions and templates.