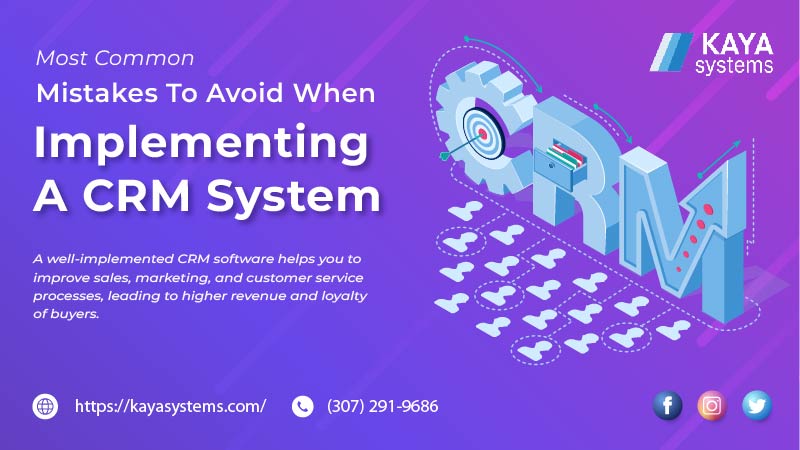 In today's digital world, a customer relationship management (CRM) system plays a significant role in managing and increasing customer engagement and satisfaction. A well-implemented CRM system helps you to improve sales, marketing, and customer service processes, leading to higher revenue and loyalty of buyers. However, CRM implementation can be a complex and challenging process, and businesses make several common mistakes that result in ineffective use, wasted resources, and a bad reputation among customers.
So, are you thinking about implementing CRM software like infusionsoft by keap, hubspot, Active campaign or Zoho and want to avoid potential pitfalls? While we commend your decision to get a CRM, we're heeding you some common pitfalls that you should be aware of in order to prevent them and successfully implement the CRM for your company. Let's explore those most typical mistakes and how you can avoid them.
Which Mistakes Can Derail Your CRM System Implementation?
The following are the most common issues that you should prevent when implementing CRM software.
1. Undefined Business Needs and Objectives
One of the most common mistakes that companies make these days is implementing a CRM platform without clearly defining their goals and objectives. Businesses must plan and strategize their goals to set out a clear vision that can be used to get the desired outcomes. This is the foremost and essential step for ensuring triumph in the implementation of your CRM.
You must follow a clear roadmap to carry out your CRM solution.

Businesses must anticipate future troubles and establish measurable objectives with relevant metrics in place. 
2. Outdated, Redundant, or Incomplete Data
The efficacy of your CRM solution is heavily reliant on the quality of the data it contains, and the use of outdated and wrong data can be dangerous for your business decisions. Whether transferring huge data records to a new CRM or continuing to use your current one, several issues can arise if inaccurate, outdated, and incomplete information is added to the system, leading to clutter. 
A growing number of records, insufficient fields, and entries can lead to wasted resources, inaccurate reporting, missed sales opportunities, poor brand reputation, and frustrated employees. So, It is mandatory to ensure data completeness, accuracy, and consistency before implementing CRM tools.
3. Lack of Adequate Training & Expertise
The success of your CRM implementation is highly dependent upon the end-user adoption and expertise in the software. Despite this, many businesses neglect the importance of their employee training and assume that their staff will easily and accurately implement the system. However, this thinking often results in suboptimal and erroneous outcomes. You must provide essential training to your employees on implementing the system and its features. You should take the time and host training sessions so, your employees feel comfortable with the new system. Without proper training and knowledge, your team will not be able to use the CRM platform to its full potential, leading to decreased business productivity.
4. Lack of Third-Party Integrations
Your business must have the capability to easily integrate with third-party tools. With successful integration, you can convert your CRM system into a centralized hub for gathering data from all business operations and managing communications between all departments of the company. 
The following can be the upshots of the lack of integrations:
 This can result in fragmented and incomplete data, which can lead to decreased employee productivity. 

It may have a negative impact on the quality of customer service, sales performance, and the effectiveness of your marketing initiatives.

Failure of CRM integrations with other systems can result in data silos and reduced business profits.
A customer relationship management system should integrate seamlessly with other tools, such as ERP systems, marketing automation tools, business email accounts, telephony providers, calendars, customer support tools, and other relevant systems. By doing so, you can easily access upgraded and accurate data, reducing error rates and staff stress.
5. Failure to Involve End-User
The success of a CRM database depends on the buy-in and adoption of end-users. Therefore, it should be able to allow the involvement of end-user such as the marketing team, admin, and sales representatives in the planning and implementation process. These departments must alter their workflows and be empowered and engaged during the evaluation. You need to make sure that they agree with your decisions and understand that the benefits supersede the disadvantages.
6. Insufficient Customization Features 
It is impossible that a CRM solution perfectly suits your specific business processes and requirements. If a business lacks the CRM customization features to meet its specific needs, it may miss out on valuable functionality that is significant to enhance business performance and revenue and result in a generic solution. Furthermore, overcomplicating the system with unnecessary features can lead to decreased usage and frustration.
Customization involves creating additional entities and fields to store data, integrating set-up with other tools, altering the system interface, editing labels, and adding new functionalities. This can help you to automate your business's tedious activities while making the system more intuitive for your teams.  
7. Failure to Measure the Success
Before CRM integration, make sure to establish metrics of all proposed areas that will be impacted by the new system. It is essential to continually evaluate a CRM to ensure that it is meeting your goals and objectives and providing a desired return on investment. If you neglect to measure success, it will result in wasted resources and missed opportunities for scalability and improvement. 
8. Not Getting Buy-In From All Stakeholders
Last but not least mistake, a business make is not obtaining buy-in from stakeholders while implementing the CRM. If your stakeholders aren't on board the system it will cause poor adoption rates, resistance, and ultimately failure of implementation. 
You must follow the following steps to avoid this mistake:
Engage every stakeholder in the decision-making process from the scratch.

Explain to them the reasons for

CRM implementation

, the advantages it offers, and how will it affect the work.
To Sum It Up
There's no doubt that a CRM system is a powerful tool to boost business productivity and build strong relationships with customers. However, in inexperienced hands, it can turn into your worst enemy and lead to failure, loss of reputation, and foster discontent. By establishing precise objectives and goals, ensuring data accuracy, providing adequate training, allowing third-party integrations, engaging end-users, customization of features, and evaluating success, you can effectively implement CRM software that delivers detailed analytics, higher productivity, and better customer service or retention.