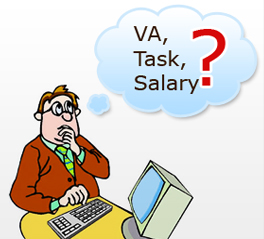 Making the decision to hire a virtual administrative assistant can be a tough one. You need to make sure that you are ready to make the hiring effective right away. Many times people start search for a virtual assistant without deciding where to begin and what to expect from him. Unplanned hiring is often ineffective and a waste of time and money on the whole. Here are some questions to ask yourself before you get ready to hire a virtual assistant.
What are the tasks that you need completed?
This is one of the most important questions. Unless you know clearly what your virtual assistant will do for you, you can never delegate the right tasks and keep him busy. This will also help your VA to learn about his duties and how to effectively manage the project.
Are you comfortable working with a person online?
Insecurity about your employees can be a very serious issue. Since your VA isn't a person who would be coming to the office ever, it means that you do not have authority over his PC. What data is exchanged between the two of you will probably be saved in the PC of the VA. You need to have confidence in your virtual assistant because without it, your work can never progress.
Can you use communication tools?
When you are working with a VA, there is no guarantee from which region of the world you choose one. You are located in the western hemisphere and your VA is in the eastern. So making calls every now and then is not a feasible option because the phone calls alone will cost you more than the salary you pay. Hence communication through the convenient channels such as Skype and other communication mediums would be required. If you are not familiar how to use these tools, you can easily learn about them on the internet and then begin your communication.
How many hours?
Do you have enough tasks to hand over to the virtual assistant to keep him busy for full office hours? If yes, then go for the monthly package because it will be cheaper. If you cannot keep your virtual employee busy for more than a couple of hours per day, then you should go for the hourly package. Paying for the hours you keep him busy will be affordable and you never pay extra.
Tags: online personal assistant, online virtual assistant, Real Estate Virtual Assistant, virtual assistant services, virtual office assistant, virtual personal assistant