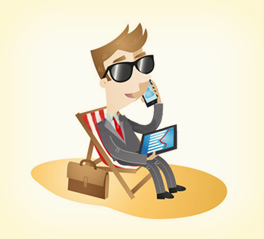 How about the idea of spending a holiday at a beach enjoying the luxuries of life with your loved one without compromising the work at office? But how can this be possible when you are out on a vacation but the work is still being done without delay? There are only two ways that can make it possible, the first one is you have assigned an assistant in the office who will take care of everything while you are away or the second one is that you have taken virtual assistant services to care for your work while you are away.
When you've taken use of any of the two options, your office work will not stop no matter how long you are on vacation but there is a great difference on the amount you will be spending. The assistant inside your office will require a salary for the work he will be performing while you are away or not. We all know how much he would be required to be paid but with the virtual assistant the costs become bearable and there is less hassle too. Since you are away, you won't be coming to the office but the in-house assistant will. This means that there is a constant worry on your mind about the office and what is happening in it.
Now when you've hired a virtual assistant for it, there is no need to worry about the office because he won't be coming there to perform the tasks, rather he would be performing them from his remote office. This saves you from worrying about your office back in town and you can enjoy your vacations to the fullest. The daily tasks performed by the VA are emailed to you by him so that whenever you are free to check, you can check the work that has been done for the day. Hiring a VA is easy and affordable because you only pay a small fee for the services you require from him.
If you are planning to go on a vacation this summer which is already here, get in touch with a virtual assistant services provider and make your arrangements for the vacation without any worries. These service providers will not only handle your emails, but you can also have your business website updated on a daily basis and also have your SEO done without fail. And you can easily remain updated about the happenings in your business and if you ever need to chat with your virtual assistant, you can always do it with Skype or you can even call him on his contact number.
Tags: online personal assistant, online virtual assistant, Real Estate Virtual Assistant, virtual assistant services, virtual office assistant, virtual personal assistant