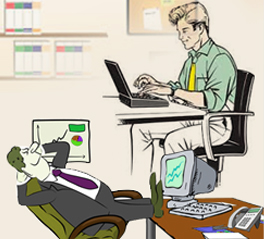 Are you too much engrossed in your work and business that you are neglecting your other responsibilities? Do you daily have a long list of to-do things that it becomes difficult for you to manage all in a day? Do you want to take rest while your work is completed in your sleep? If answer to these and other such questions is yes, then you need to have an online virtual assistant who can take off the burden from your shoulders and allow you to do justice with your personal and business life with ease of mind.
An online virtual assistant (VA) is a skilled, expert and experienced person who is efficient and well organized to handle the office tasks. VA provides specialized administrative services to the entrepreneurs, businessmen and managers. Typically, assistants were considered to do common types of tasks such as typing, transcribing and other repetitive administrative task. But virtual assistant has changed the meaning of the office assistant which was limited to such common office tasks. Now virtual assistants are considered specialized and highly skilled people who have the ability to perform multiple tasks according to your business requirements.
The services of virtual assistants are mostly availed by the small and medium sized businesses and professionals such as doctors, lawyers, accountants, managers and other such small business owners. Due to their low budget, these businesses generally want to operate on low cost in order to compete with the market. So they are willing to hire employees at cheap costs and when they require it.
The particular reason for this demand is the global economic slowdown. Now-a-days, every kind of business is forced to cut down on the costs while maintaining their employee strength, which has become a challenge. It even satisfies the customers who get such cheap outsourced services.
For finding a suitable virtual assistant, it is important that you first determine the tasks you want to assign to the virtual assistant like teleclass listings, email, blog entries, ezine, website updates etc. you can hire them on contractual basis for your project and can assign an estimated time for them to complete the project. Most of the online virtual assistants work on the hourly rates. This rate varies with the complexity of the task and the level of expertise the assistant possess.
Most of the communication is done through the online channels or medium of communication such as internet, emails, online chat, skype, web conferencing and also via telephone and fax. The experience and expertise in communication is vital to this job.
The online virtual assistant generally have specialization in a particular business area such as marketing, advertising, finance, accounting, research, content writing, secretarial services and it can be almost any kind of field in which virtual assistance can be provided.
The invention and innovations in the field of information technology and communications invigorated and widened the scope of the field of online virtual assistants, extraordinarily. Now it is an important part of the small scale business industry developing bright work at home opportunities especially for women.
Tags: online personal assistant, online virtual assistant, virtual assistant services, virtual office assistant, virtual personal assistant