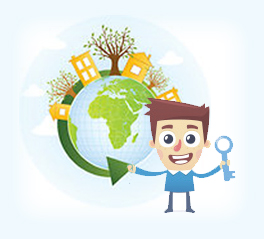 Realtors are probably the busiest business people around us. The increasing competition amongst them causes them to run about the city all day long finding new properties that have just come up for sale or rent and the next part of their day is served in uploading all the new data in their database. As the realtors have to manage hunting new properties and to show the existing ones to customers, rarely do they get the time to complete the next part of the day because it gets already too late and they are exhausted from the field work all day long.
Some realtors have hired a real estate virtual assistant to complete the data entry task for them while some have hired teams of them, it all depends upon the volume of work. But in either case, it is a smart move to stay updated and upgraded which keeps them ahead of their competitors. Now if you are a realtor, why stay behind? You can also get yourself a virtual assistant for your real estate business and become as organized as the ones you see around you, it is not a secret anymore. Once you get in touch with a VA you will learn there are a lot more different things he can offer you than just data entry. Here are some of the things that you will get from him.
Data Entry
This is the age of data and any business or company which lacks data is losing in the game. Suppose if you are out in the field showing your customer an apartment as he asked you to show him, but the one you are showing him isn't appealing. If you would have an updated database of all the apartments within the vicinity, you can easily take him to another one and show him the next one. Showing one or two more would certainly help him make up his mind and you'll have a sure deal within the day. Hence your VA has managed to help you strike a deal.
SEO
We all know that the companies having business websites are always at a greater advantage because they receive customers from the internet also. So your real estate virtual assistant can optimize your website on a daily basis to keep it on the top rank and you get the maximum customers from your website. Think about the importance of a website as a customer, you are in your office and cannot leave but are free to explore some properties on the internet. The moment you come across an appealing property on some website you will contact the website owner and settle a meeting. Thus the website owner has gained a customer because of the Search Engine Optimization (SEO) of his website, again thanks to the VA.
Tags: online personal assistant, online virtual assistant, Real Estate Virtual Assistant, virtual assistant services, virtual office assistant, virtual personal assistant