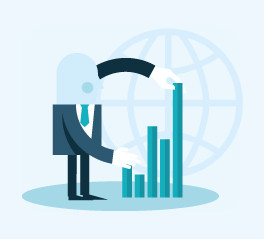 Administrative tasks in a business can be very crucial yet they are the most neglected. Small business owners have a lot on their plates and the daily duties clearly exhaust them. Thus the evenings which are dedicated mostly for the administrative tasks are spent lazily and only a small part or no work gets done. As hiring an office assistant is not possible because of the low budget, most of the business owners are unaware that they can hire a virtual administrative assistant. A virtual assistant performs all the administrative tasks without charging as much as an office assistant so he becomes affordable for the small business owners and this way they can keep their tasks up to date without paying a lot of money and taxes.
Since the business owner has to run about doing many different things such as meet new clients, meet vendors and also attend some other important tasks, there is no time for him to sit on a computer and spend hours updating the data base. And without an updated database the business can come to a great harm because when the customers send an email and it goes un-responded, the customer can be offended and may decide to close business with the owner. The assistant would take care of such emails and queries while the business owner is unavailable and also keep the contact with the customers maintained.
Virtual assistants are off-site professionals who are known by many different names such as executive assistants, administrative virtual assistant or secretaries who provide professional services to businesses of every size. As technology has shrunk the whole world and every person can connect to the other using the technology of today, establishing a connection with the virtual assistant by the business owner is not a problem. We have the mobile phones; internet communication apps such as the most commonly used one Skype and many other more. Once a business owner has hired an online virtual assistant, staying in touch with him is not a problem at all.
A virtual administrative assistant provides different kinds of services to his client. There are many ways a VA can help the business owner in his efforts to raise the standards of his business. By providing all the services needed to maintain the back office of any business, the VA helps a business person to manage his data and updating his business on a daily basis. Sometimes a business owner may face difficulty in finding the right VA. This can be easily solved by visiting different reliable websites and using the right phrases on the search engines.
Tags: online personal assistant, online virtual assistant, Real Estate Virtual Assistant, virtual assistant services, virtual office assistant, virtual personal assistant