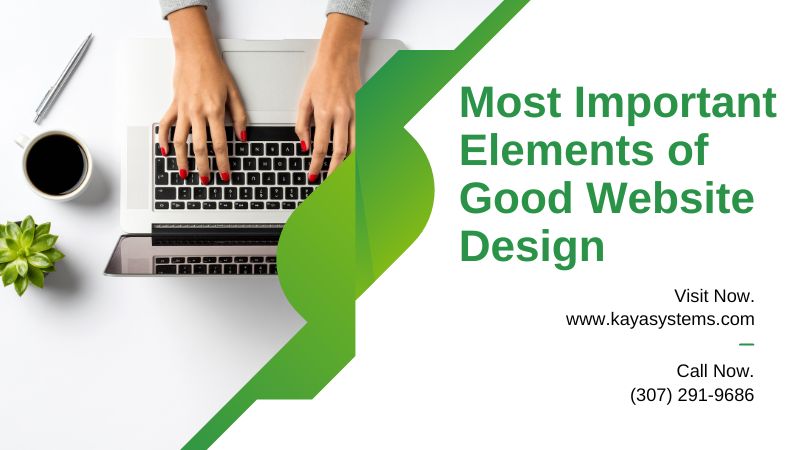 Your website design is absolutely one of the most important elements to get more clients and customers, if you are a business owner. Website is the need of every brand owner now to promote the business and grow faster. Experts believe that websites will only continue to gain popularity with digital brand awareness due to their pervasive usefulness. Sophisticated website content can boost digital marketing, lead generation, and other business endeavors.
However, running a successful business website is a difficult task. There is a lot to consider because a good website design should be perfect. You must be wondering what separates a good website from a bad one, or a good from great? It can be difficult to understand all the factors that go into this exploit, so we've listed the most important ones in this article.
-Website Content
Content is the backbone of a website. It plays an important role not only in search engines, but also provides your brand awareness to the readers. Quality matters over quantity, so make sure that you provide quality content to the visitors and it must be informative, relevant, and factually correct. Your content strategy matters a lot. Don't only focus on the homepage or blog, but also make sure that the ''About us" and "Contact us" page has the appropriate and right information about your business.
-Typography
The type of text on your website determines the overview of the website that visitors get. A lot of websites don't rank well simply because they don't convey their content correctly or simply. Most businesses have a specific font or typeface that they use to help their customers instantly differentiate them from their competitors. In recent years, designers have had access to a wider variety of typefaces, allowing businesses to more accurately express their brands through typography. So it is an important part of your brand identity.
-Responsive Hero Images
The world of web design has changed over the years, with an ever-increasing focus on designing for an immersive experience. Interactive images act as a call to action (CTA) for businesses and customers, who can see the CTA instead of reading it in bland text. Hero images are also often placed in the background, with text and other content overlaid. Whichever approach you use, large images can help you visually tell your story without having to rely on text alone.
-Background Videos
Videos that play automatically can add a lot of interest to a page. They can be used to tell a story and greatly reduce the amount of other content needed to explain your business. It can be about your business, your vision, your achievements, your plans, etc. The versatility of these background videos makes intuitive web design an ideal choice for promoting brand engagement. Additionally, these videos allow users to add an element of humanization to their content.
-High-quality Images
If your website contains high-quality images, it will make an ever-lasting impact on the visitor. High quality images play a major role in making a decision while doing online shopping. High -quality images will also help the designer to highlight the features of products efficiently. If the product on your website is visually appealing, the visitor will be more likely to buy that product. Because it helps to generate an understanding about the product.
-Navigation
The site plan ought to be simple to explore and the menu things ought to be effectively available from any page. The reader should know precisely where he is on the site and have simply got to where he would like to be. A sitemap may be an extraordinary thought and will be utilized when accessible. It sounds basic, but most websites can make strides in this range. Keep in mind there's a fine line between a good menu and an irritating menu, so functionality ought to be the idea.
Actualizing a great website design permits your brand to lock in with more clients, accomplish faster comes about, and much more. It's fundamental to preserve an adjusted approach as you construct and coordinate the culminating content technique. Center on utilizing high-quality pictures, drafting great content, and inserting videos to really drive brand engagement. If you need help with the method or wish to accomplish it with a dependable asset while taking the primary steps towards building the perfect site for your business, reach out to our group of specialists at Kaya Systems Inc. We'll assist you with computerized publicizing, SEO techniques, content administration, and much more.