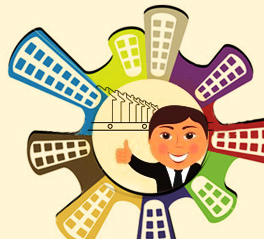 Advancement in the internet and most probably the IT industry has provided professionals to provide services remotely. One of the industries that has also benefitted from the growth of internet is the real estate sector which can now get a real estate virtual assistant. The virtual assistants providing services to the realtors can do a lot to improve their business and organize it for them before they come to the office. A virtual assistant can streamline the business activities for his client when they are available or even when they are out of the office.
Realtors have very little time to spend in the office because most of their time is spent outside in the field. They are either outside showing property to the customers or are taking pictures of the new property that has just come to their knowledge. And since there isn't just some amount of office work to be done in the backend, the realtors who do not have a real estate virtual assistant to support them are behind in the administrative work. They already have a back lock huge enough to keep an assistant busy for the entire month before moving to the new tasks.
Since the modern times demand for a website to be updated on a regular basis, it can be a hectic task for the realtors to manage the paper work; website maintenance and dealing with clients within the days work timings. Hence they have to make arrangements for these tasks to be handled by a permanent resource. Hiring an assistant in the office would certainly be alarming for the company's budget. Since the assistant wouldn't be dealing any clients and just handling the paper work, it wouldn't be a wise move. And then for website maintenance a separate person would be hired. This means that the company's operational costs have doubled in an instant.
The real estate virtual assistant would be a handy man plus an all in one employee for the business. While the costs are automatically reduced when the employee is hired online as he does not walk in the office. The payment for the transport and coffee and other activities are automatically shed off from the company's budget. Next, the virtual assistant for the real estate business would handle the official tasks and also keep the website updated. As he will do all these tasks, the business will get more exposure and the business owners get more time to focus on the market rather than inside their office.
Tags: online personal assistant, online virtual assistant, Real Estate Virtual Assistant, virtual assistant services, virtual office assistant, virtual personal assistant