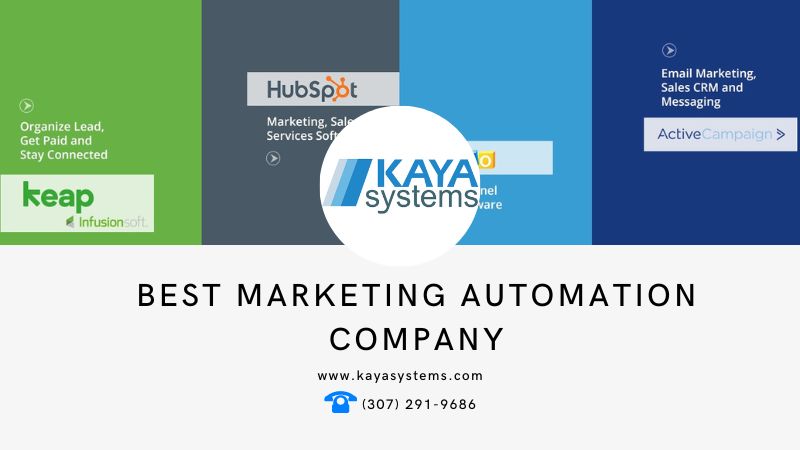 Marketing automation is exactly what it sounds like: the process of automating processes to streamline lead and existing customer marketing. Marketing automation is booming in the industry. When you have so much to do. Managing your clients, answering their phone calls, and responding to their emails is a time taking task. You do not have time for the other things that are really  important for your business and need your consideration. But here, marketing automation tools are the perfect solution to your problems. Because these tools take all your workload, speed up your business and help you focus on the other important tasks. 
Majority of the business owners have started embracing these tools and 75% of digital marketers are currently using them for their business. These tools are not only helpful for the growth of your business, but also very affordable. If you have not started using them, this is the right time for you. Here in this article, we have mentioned some of the best automation tools. 
1- HubSpot
HubSpot is one of the most powerful and widely used automation tools in the market. It is designed for both large and small sized businesses. This tool has an easy-to-use, simple, and visual interface. It collects personal data very easily and provides a professional email template. HubSpot CRM includes content creation and optimization, email marketing, analytics dashboard and many more. It helps in many ways for the growth of your business. 
2- Zoho
Zoho is an easy-to-use CRM software for large and small sized businesses. It streamlines business and builds excellent customer relationships. It helps to manage all the leads generated from different platforms such as websites, emails, and other social networks. Zoho CRM manages your lead pipelines and provides a proper detailed analytics report. 
3- Active Campaign
Active Campaign is an integrated marketing automation that targets all the businesses. It is simple to use and has many advanced, powerful, and flexible functionalities and features. It provides excellent solutions to reach the targeted audience. ActiveCampaign CRM is compatible with over 250+ apps and it supports, Shopify, WordPress, Square, Zapier, and BigCommerce,
4- Keap
Infusionsoft by keap is a marketing automation service that provides a sales and email marketing platform for small sized businesses. It has assisted thousands of marketers in meeting lead, revenue, and customer acquisition goals. Keap crm offers 14-days free trial and paid plans according to the customer's requirements. This is the platform that can help you manage and automate your time consuming tasks.
5- LeadPages
Leadpages began as a high-conversion landing page builder. It has progressed beyond simply providing high-quality design landing page templates. With an integrated Facebook Ad builder, email marketing platforms, and performance tracking systems, it now functions more like a marketing tool, assisting you in generating more leads.
You are no longer bound by outdated and time-taking business processes that require days to complete basic operations. Begin with the platforms recommended in this article and automate the unproductive and repetitive tasks that take the majority of your working hours. These automation tools can help you save time and resources while also improving the efficiency of your business workflow. If manual data collection and onboarding methods are a major issue for your company, Kaya Systems Inc can help.
There are a variety of marketing automation tools, you just have to choose wisely the perfect tool according to your business needs, budget, and technical expertise. If you are still confused and cannot figure out the right tool for you, it is time to hire an expert for your help. Kaya Systems is the best option for you to ensure that you are building a strong foundation of your automation. Our team can work perfectly with various marketing tools including, Keap, HubSpot, Active Campaign, Zoho, LeadPages, Membrium, imember 360, and Woocommerce. Give us a call at (307) 291-9686 and get more details.