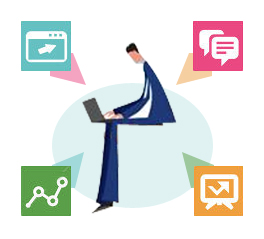 A business administrative assistant holds a key position in every company because he makes it possible for the managers and the business holders to streamline their daily work. As every other person is busy in doing their tasks, nobody has enough time to take care of the other important things that are necessary to run a business. But in order to keep business operational costs within control, most business owners do not hire an assistant but later regret it. If the business needs to control on its operational costs but still need to hire an assistant because his position is undeniable even in the smallest business, the best option is to choose a virtual administrative assistant.
Who is a virtual administrative assistant?
The assistant has many roles to perform in an office. He has to act as a secretary, as a receptionist and also as an assistant. All of these roles can now be performed even without a physical presence in the office thanks to the advanced technology we have access to. Since businesses have mostly gone online, clients rarely walk into the offices to ask for details and prefer to find the information on the company website. Hence, the importance of a company website has become greater than its physical office.
A virtual assistant performing the administrative roles does all the work but instead of being present inside the company's premises, he performs his duties from a remote place. He performs all the tasks assigned to him. And as it has become undeniable to have a well maintained website with a support option, the virtual assistant greets all the customers on the website through the online chat support. Thus, he fulfills the requirement of a receptionist.
Is it cost effective to hire a virtual administrative assistant?
The option to go online automatically boosts the chances of saving more money and get extra work done. A virtual administrative assistant can do more than just work like a typical assistant but can even provide the services of maintaining the website and keep it alive. Designing and development is a huge issue for website holders because they cannot do it without a professional and unless they hire one which is extremely costly, the website will not be looking good. The virtual assistant can provide these type of services too so this assistant becomes more of a multipurpose employee than just an assistant whose tasks are limited. The virtual assistant charges a nominal fee for the services he provides, mostly for just the hours served. His fee does not require taxes and benefits but just the amount which has been mutually agreed. So yes, the virtual assistant for the administrative tasks is definitely cost effective.
Tags: online personal assistant, online virtual assistant, Real Estate Virtual Assistant, virtual assistant services, virtual office assistant, virtual personal assistant