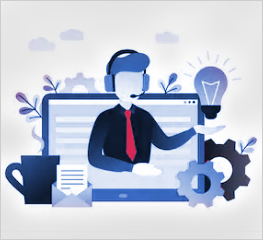 Virtual assistants are skilled people who sell their skills online to companies without physically available there. From simple data entry work to complex business analysis and implementation of complex business processes. virtual assistants are actively providing this wide range of services. Some the core services that virtual assistant companies are providing includes
Data Entry
Research and Analysis
Data Mining and Modeling
Emails and Phone Management
Transcription Services
Back Office Support
Online Event Management
And many more
Hiring a virtual assistant is very wise approach but most importantly hiring correct virtual assistants with required skill set is more important, some people who are individually working as virtual assistant have specific skill sets but when they are asked to work on a domain they are not expert they try get the job and then they learn in real time while working on the tasks and can cause major issues for business. There are few parameters that you can take in to account before hiring virtual assistant so that you get the best skilled person to manage your tasks
Ask for their resume to evaluate their qualification and skills
Do an initial interview and ask questions relevant to your tasks
Ask for a trial period with a trial task before hiring virtual assistant
For personal virtual assistant ask company to sign NDA
Virtual assistance services are best because you got same skill set with low price, different companies offer different rates based on their location, branding and different packages, normally virtual assistant companies have different packages to select from, like 10 hours per month, 20 hours per months to 160 hours per month which is full dedicated resource, as these number of hours increases cost start to decrease. For a fully dedicated resource a good virtual assistant company will charge around $8/hour to $15/hour depends on the skills level you are looking for.
Here is a cost and time chart that you can review to know that how much good a virtual assistant company would charge for virtual assistants
Plan 1 – 10 hours/month will cost around $200/Month
Plan 2 – 20 Hours/Month will cost around $500/Month
Plan 3 – 40 hours/Month will cost $600/Month
Plan 4 – 80 hours/Month will cost around $960/Month
Plan 5 – 160 hours/Month will cost around $1600/Month
These are general rates you can negotiate with companies to see what best prices they can offer. But these guidelines in this article gives you insights on the point you need to consider while hiring virtual assistant
Kaya Systems Virtual Assistant Services
Kaya Systems Inc is actively providing virtual assistant services from last 11 years and have worked on 1000's of business processes which includes recruitment processes outsourcing, transcription services, data mining and scraping, business research, graphic design, website design and development, you can contact Kaya systems Inc. anytime if you are looking for to hire a virtual assistant which can work parallel with you to achieve your goals.
Tags: Hire Virtual Assistant, Personal Virtual Assistant, Virtual Assistant Companies, Virtual Assistant Service, virtual assistant services, Virtual Assistants