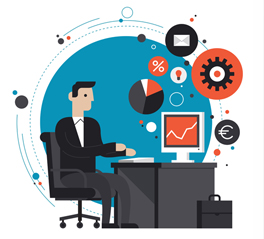 The internet is filled with bogs and articles screaming out for the undeniable need of an online virtual assistant especially for the small business owners. If you are a small business owner and have searched for a virtual assistant you might have come across these articles and blog posts. But do you even know how useful a virtual assistant could be to your business? Virtual assistants are not just about handling your regular data entry and replying formally through the official emails, they are professionals who can do a lot of work to help your business reduce operational cost without cutting down quality.
Here are some of the things a VA can assist our business with.
Website building and maintenance
It wouldn't be news to you about the importance of having a website for your business. But do you know how much you would need to invest to hire an IT department equipped with the best website developers? Surely you can't afford to have a team of website developers in your budget and you'll need to have it built and maintained as well. Your VA can provide you complete technology services and even a backup when you are done with the building of the website and need it to be maintained for proper long term functionality.
Ranking and popularity
Your website is not built to be a part of the shadows. It has a purpose and should be available to every customer who wishes to reach you according to your business. Competition over the internet is tough and there is no way you can have your website ranked high in the search engines without applying the proper route popularly known as internet marketing. You'll need to have the SEO done along with the social media for the world to know that you are an active business and it is safe to have transactions with.
Business services
Do you need a secretary to keep you updated with your weekly and daily schedule of the meetings, birthdays and anniversaries? Do you have enough to handle outdoors that your business is suffering by not being updated regularly? Let your online virtual assistant handle the stressful tasks of updating your task sheets and the invoice records as well as keep you posted with all the upcoming events important for your personal and professional life. By providing you the business services you need, you will have a back office to keep your business well maintained without even hiring a physical team.
Tags: online personal assistant, online virtual assistant, Real Estate Virtual Assistant, virtual assistant services, virtual office assistant, virtual personal assistant