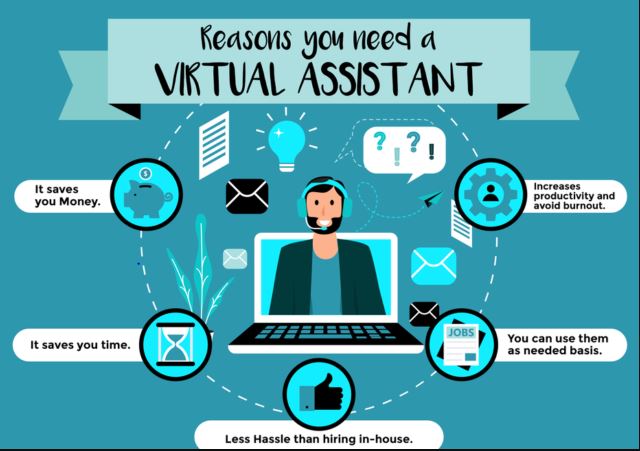 Busy experts tell us, "I wish I could clone myself! I have so much to do!" Tragically, science isn't however to the point where you'll make another "you," but you've got another choice for getting things done that doesn't incorporate enlisting costly in-person staff: bringing on a virtual assistant. When you start your business you must be struggling with your administrative tasks. And when your business is prospering you must need extra hands to complete your tasks and run your business smoothly.

It is the right time to hire virtual assistants. You must have struggled with a lot of virtual assistant websites to know which one is the best to choose and what are its benefits. Here at Kaya Systems, our professional and talented virtual assistant consultants will help you in every task to run your business more efficiently. Here are the huge 5 benefits of hiring virtual assistants. 
—You can save tons of your time
Time is the most precious and valuable asset anyone has, and once it's gone–it's gone. Your business needs your core focus and when you are handling your business and administrative tasks all alone, it means you are not giving the level of focus it deserves. Having someone who can take care of your backend can be very beneficial. It will help you to save your valuable time and your administrative tasks will be done smoothly before the deadline. Our virtual assistant team will quickly soak your pain like a sponge because we work smartly on whatever tasks you assign. 
—You can expand your reach
Lead generation is an important part of business, whether you are doing it with social media, contact forms, or inbound campaigns, it is time consuming. And you do not have much time to handle it yourself. Our professional virtual assistant consultants and experts can easily manage your social media, answer all your online questions, and respond to your email queries. Stop worrying and paying a marketing firm because we are here to take your workload and provide you with the best virtual assistant services at a very affordable cost. 
—You can increase your productivity

Virtual Assistants do your administrative tasks including data entry, managing your daily tasks, answering phone calls, and responding to the emails and other clients. These things increase your business's productivity and let you focus on your other tasks. When you hire a visual assistant team, you have extra hands to help you throughout. Kaya Systems our skillful team will focus on the productive areas you might not be aware of, and save your precious time.
—You can scale your business
Taking a very first step towards your business expansion? Hiring a virtual assistant means scaling and growing your business. When you hire new staff and pay them, it can be more costly as compared to paying a virtual assistant group. And hiring VA can be a perfect solution. Our company provides a professional group of VAs at extremely reasonable cost. Which will help you scale your business by keeping you on budget and done your daily tasks 10 times faster. 
—You can be more flexible
Do you spend most of your time answering the phone calls, responding to the emails, and managing your inbound campaigns? What if someone else does these nonessentials things for you and you can focus on the other important tasks or of business? Your clients are located in different countries, different areas, and different time-zones and managing all of them all alone at the same time is something impossible. If you hire a new staff and teach them all new technologies and strategies it will be time taking, So why not hire a professional VA group of Kaya Systems who already know all the techniques?
Kaya Systems Inc offer great services at a great price. We take the time to understand the expectations for each task before assigning them to some random associate. We have also worked with yourmaninindia and have invested our time in coaching. Our services are best and our major goal is to make our client satisfied. For further information contact our team and they will answer all your queries.