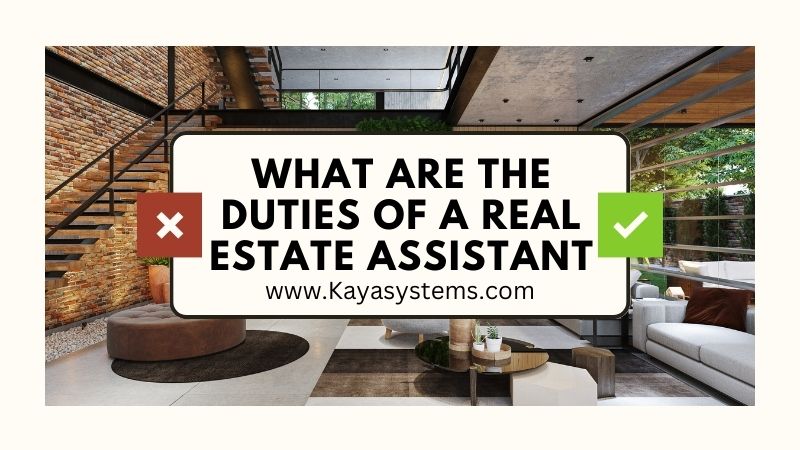 It is not a denying fact that the financial potential and burdens in the real estate industry keeps agents and brokers extremely busy. The duties of a realtor include pursuing and closing deals but if you want to get your business to the next level, you'll need someone's assistance. There is where you might feel the need of a real estate virtual assistant. You can manage all of your projects and tasks easily by having the real estate support services of an assistant.
What is a Real Estate Assistant?
On average, virtual assistants can help their company to save up to 78 percent of normal labor costs. A real estate assistant (also known as a real estate VA) is a remote employee that helps agents and brokers with clerical and administrative tasks.
Generally a virtual real estate assistant has been assigned with the responsibilities such as client acquisition, appointment setting, research, and presentation creation. You can expand your business more efficiently with the help of these virtual assistants, without sacrificing quality and satisfaction of the buyers.
Top 5 Duties of a Real Estate Assistant
The primary duties of a real estate assistant are administrative which includes assistance with paperwork, answering the phone, and setting up appointments for their brokers. A real estate virtual assistant can perform a plenty of tasks so, you must have a clear vision of what you want a real estate virtual assistant to perform for your company.
Below are the some of duties that they can perform for you:
1. Scheduling Appointments
Real estate industry has a lot of work to manage. As a realtor your calendar might be full with the appointments of various clients from diverse locations. You need to manage all the things so you don't miss any of these appointments. But it is not a DIY job to handle all alone. In order to avoid conflicts and stay on top of your priorities, you should hire the services of a professional virtual assistant. He can assist you to schedule appointments and to keep your schedule more structured by taking messages and responding to emails.Last but not least, virtual assistants for the real estate industry will send you timely reminders and ensure you never miss a critical meeting or deadline.
2. Social Media Management
Nowadays, Social media has become a necessity for the success of any business, both online and offline. Every company must have a presence on social media to keep ahead of the competition. But, you might not have much time to spare as a realtor on social media marketing. Fortunately, VAs can help you to increase your social media presence. They will handle your social media campaigns, engage with new clients, provide marketing collateral, perform search engine optimization and write blogs for you.
Additionally, they are vitally aware of business trends. The cost of hiring a blogger, social media marketer, and SEO expert would be far more than that of hiring a real estate assistant.
3. Perform Research
It is not a new thing that your clients may have numerous questions about the services and tasks. But if you have no time to answer their basic queries, there's a great chance that you might lose the deal. So, you should have all the necessary information to address them. An expert real estate virtual assistant can help you by providing detailed research reports. They can assist you in monitoring regional pricing and sales activity. You may, of course, do everything on your own, but an expert helper will make your life easier by giving you all the information you need at a perfect time.
4. Monthly Reporting
If you manage all of your monthly data in reports, you might save yourself from stress. You need to track all of your key performance indicators and client details. Regular reporting can help you to manage this. A real estate assistant can help you to handle your monthly reports relevant to your business. They can present all of these by using enhancing elements like images, graphs, and videos. This will ease your burden by making data analysis easier and faster.
5. Clerical Tasks
It is true that a real estate business requires much paperwork. It can be really hectic to keep track of everything such as client information, property records, and financial data. You acquire virtual assistant services for real estate business to take care of basic administrative tasks like data entry and bookkeeping. So, you may increase productivity and devote more time and focus to strategic initiatives. A professional real estate assistant has extensive experience working in the industry and he carries all skills and knowledge required to complete these tasks successfully, including a working grasp of spreadsheets.
Advantages of Hiring a Real Estate Assistant:
Cost Saving
Better Work and Balance of Life
Managing websites
Email management
Scheduling meetings and appointments
Calendar management
More Productivity
A real estate business is very complicated and requires a lot of patience and hard work. But, you don't have to handle it alone when you hire someone's support services. A real estate assistant can help you to take your business to the next level and make your life hassle-free. If you're still confused whether to hire an assistant or not, then look at the above information because the benefits and duties of a qualified person can make a huge difference on your business and personal life.