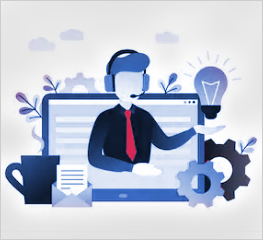 Hiring a virtual assistant for businesses process outsourcing is an excellent step in many ways, you don't need to buy a physical office, you don't need stationary, laptops, internet connections, and on top of everything by hiring a virtual assistant you can utilize virtual assistants services only for the tasks you don't have time for and can pay only for the hours utilized by virtual assistants to complete that task, and then these virtual assistants cost much low as compare to hire an employee within company.
Beside these benefits, question rises that when is a good time to hire a virtual assistant?
In today's online business grown rate, business owners who wants to run their business online, they immediately need several type of services for their business to run online, first of all they will need a designer and a developer to design and develop his online ecommerce website, or even before this he might need to get a marketing research done to know scope of his business on the internet and he will need assistant and he will go find some virtual assistant companies online who have virtual assistants with marketing research experience for launching products online and they can conduct this research for business owners. so even a new business who is going online will immediate needs virtual assistant services.
But, we have seen some of the companies still prefer to hire in-house employees instead of outsourcing their processes and there can be many reasons, like in Scandinavian countries like Norway and Sweden you can't transmit your company's data outside your country, even a business owner can't use hosting outside their country to host a website and hiring a virtual assistant is totally out of question, but we will focus on the business who can outsource their processes, for a medium size company good time to hire a virtual assistant company is, when they have their development team generating good business and non-dynamic tasks like data entry in bookkeeping, data mining, data scrapping, customers support, website maintenance, and many other static tasks should be outsourced to these virtual assistant companies immediately, because it will not only cost them cheap in terms of per hour rate, but setup cost and regular office expenses will be zero that will require to maintain in-house employees.
Many companies, have adopted this practice as a way to increase their profit margins by reducing these office expenses and by hiring low per hour cost virtual assistants. Next question that usually comes in mind that which companies is best at providing virtual assistant services, there are several parameters to identify the best company. You can go to https://www.spyfu.com and can search for that company. It will show you their domain's age, that for how many years this company is in business, more years means the management of the company have more experience in this industry and also you can ask them to send your virtual assistant CV for your review, and a good virtual assistant service providing company must have Master degree holder virtual Assistant with at least 2 years of experience as virtual assistant.
You can also Visit Kaya Systems Virtual Assistants Services page to know more about different services offered by virtual assistant companies
Tags: Hire Virtual Assistant, Personal Virtual Assistant, Virtual Assistant Companies, Virtual Assistant Service, virtual assistant services, Virtual Assistants