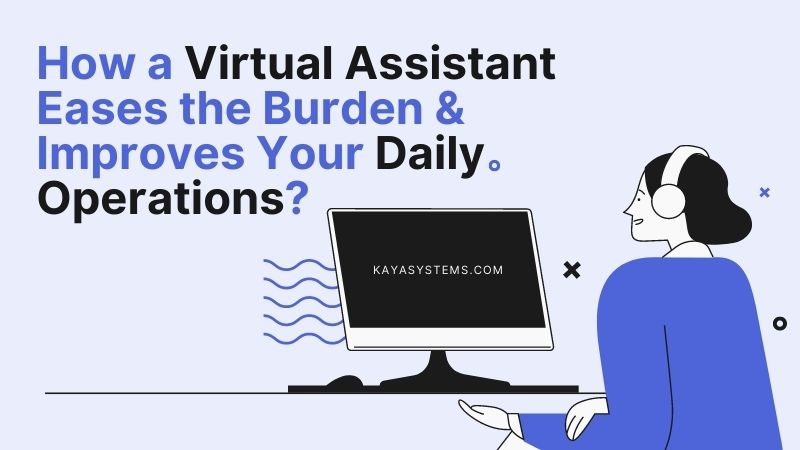 A virtual assistant is a remote employee who supports your business in administrative tasks that an executive assistant hardly performs. The task that a virtual assistant performs for you helps to put a business on cloud. If you want to give your business a new look and want to see it at its peak,you must hire a virtual assistant. There are different services that a virtual assistant performs. They perform team building activities,planning events and do marketing. There are so many Virtual Assistant Services like:
— Lessen Your Workload
In a company, there is so much work and activities that you perform. Virtual Assistants support back-end tasks. A Virtual Assistant manages all administrative tasks such as answering phone calls, scheduling appointments, transferring data, sending emails and traveling arrangements. When these small tasks are done, it lessens your burden from your mind.
— Efficient Management:
The support provided by Virtual Assistant gives you the benefit to focus on managing business critical activities. A virtual assistant helps you to develop skills that grow your business. Virtual Assistant uses the right tools, document processes, delegate tasks, and provide reasonable deadlines.
— Control Your Business:
Controlling a whole business is not easy. A Virtual Assistant takes supportive tasks and manages them more efficiently. Virtual Administrative Assistant has experience of management and other tasks, performs all duties like bookkeeping, computer work and other administrative tasks more efficiently.
— Improves Productivity:
Speed of your work enhances productivity of your business. As a virtual assistant performs all unnecessary tasks, you can focus on dealing with clients, finding ways to improve growth, and managing your business. Virtual team building tasks help to maintain the work life balance which encourages the other employees to work better and keep them motivated.
— Saves Time And Money:
Activities like administrative tasks are time taken and repetitive. If your company has a virtual assistant, it can make sure all your small and important tasks are done on time. Virtual Assistant gives you more time to relax, enjoy your work, make new plans and strategies for growth of business.
— Organize Plans and Schedules:
If a company has a virtual assistant to manage all administrative tasks, it solves a lot of issues. A virtual assistant takes care of all your small activities like sending and receiving emails, organizing plans for meetings, making schedules and managing your calendars. A virtual assistant is a self employed worker that performs typical tasks of any business. They give you skills like time management and organization. Virtual Assistant Companies help you to reach your goals ,boost your sales and perform many activities. They give a new look to business.
Bottom Line
Kaya Systems Inc has a team which is talented, experienced and professional in providing virtual assistant support services. We have invested our 15 years in this field and worked with many professional companies including brickwork va and virtual assistant your man in india. Our services are reasonable and competitive. Our top priority is our client, so we do not take any risk and work with a full focus. Contact Kaya Systems Inc today for further information.